Paying by card: more secure than paying in cash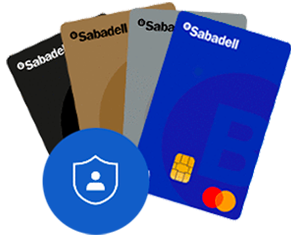 In addition to the advantages that come with all our Banco Sabadell cards, you'll enjoy extra peace of mind thanks to our protection systems.
Resumen de productos

Mobile protection

Get push or SMS alerts every time you make a transaction.

Set up the international or online use of your cards with the Banco Sabadell app. And if you can not find one of them, you can also turn it off with a single action.

Do you need help? We are at your disposal 24 hours a day on 900 712 356.

EMV chip

Come with all our cards. Not only do they do not require a signature, they also reduce the risk of fraud thanks to their cardholder validation system.

Secure online payments

Worry-free shopping has never been easier:

1.

Make a purchase at a "Verified by Visa" or "Mastercard Secure Code" certified business.

2.

During checkout, enter the code that you'll receive on your smartphone via SMS or push.

3.

That's it! Purchase confirmed without sacrificing maximum peace of mind and practicality.

Our customers' top 5 favourite security tips

1.

Did you just receive your card? Sign the back if you haven't already done so.

2.

Go one step further with your PIN. Avoid writing it down and using a numerical combination that is too obvious (birthdays, consecutive numbers...).

3.

If you're going on a trip, we recommend you take more than one card to avoid unexpected issues.

4.

Customise the use of your card: limits, settings for when you're abroad or making online purchases. It's as easy as opening your app or the website, and adjusting it to your current circumstances.

5.

If you detect a fraudulent transaction in your accounts, please call us. We will be happy to assist you, 24 hours a day.