Expansión Loan
If you can't get it out of your head, it's because you should do it.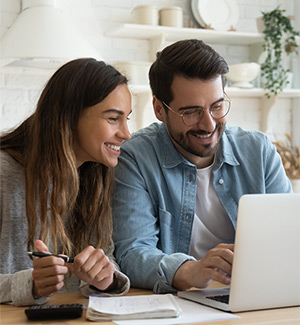 Request your Expansion Loan1 de 2.500 € of between 2,500 and 60,000 euros and pay it off in between 18 and 96 months.
Only for customers who have been with the bank for a minimum of 6 months.
NIR 8.75 %.
APR from 11.43% to 21.84%2. The APR may change, depending on the repayment period and amount of the transaction as there is a percentage fee.
Arrangement Fee: 2.50 % (minimum €75).
Assessment Fee: 0.25 % (minimum €30).
Compensation for early repayment during the last year: from 0.50 % to 1.00 %3.
Are you renovating your home? We make it easy for you with the ECO Renovations Expansión Loan4
There is now a 50% discount on the arrangement fee.
What is the ECO Renovations Expansión Loan?
It is intended for customers who have been with the bank for a minimum of 6 months, who want to carry out renovations on their main residence or second home and thus improve its sustainability and energy efficiency. Finance:
Window improvements.
Renovation of heating or cooling installations in order to make them more efficient.
Purchases of appliances that are classified as A+++, A++ and A+ energy efficient.
Requirements
To process an Expansión Loan we just need the following documentation:
Applicant's National
ID card
, Residence Card or Passport
Last two payslips
(employed workers).
Income tax return
(previous year).
Type of loan conditional on the customer having their salary paid directly into their account and taking out the Total Loan Protection insurance.
The granting of the loan, its amount and the repayment period for each transaction requested will be determined by and contingent on the bank's risk criteria.

1. Expansión Loan at 8.75 % NIR. Interest rate and arrangement and assessment fees for natural persons (excluding business and professional purposes) for customers who have been with the bank for more than six months, with their salary paid directly into their account and who have contracted the Total Loan Protection insurance and subject to the risk assessment.

Offer valid until 31/12/2020. Conditions valid for applications made through remote channels for amounts ranging from 2,500 euros to 60,000 euros.

2. The APR may change, depending on the repayment period and amount of the transaction as a percentage fee applies. The calculation of the APR includes an arrangement fee of 2.50 % (minimum 75 euros) and an assessment fee of 0.25 % (minimum 30 euros) calculated on the repayment period and the amount of the loan requested and the contracting of the Total Loan Protection Insurance for a person aged 34. Fee calculated without taking into account the three-month optional waiting period. Check with your branch about the possibility of financing the insurance premium.

Example for a loan amount requested of 2,500 euros:

Minimum APR of 12.05% to be repaid in 96 months, at an annual nominal interest rate of 8.75 % and a monthly payment of 36.31 euros, and the contracting of the Total Loan Protection Insurance with a single payment premium of 118.03 euros. The final instalment is a lower amount: 35.54 euros. Total debt amount: 3,708.02 euros. Total cost of the loan: 1,208.02 euros. Total amount of interest on the loan: 984.99 euros. Minimum arrangement and assessment fee.

Maximum APR of 21.84% to be repaid in 18 months, at an annual nominal interest rate of 8.75 % and a monthly payment of 148.71 euros, and the contracting of the Total Loan Protection Insurance with a single payment premium of 97.46 euros. The final instalment is a lower amount: 148.63 euros. Total debt amount: 2,879.16 euros. Total cost of the loan: 379.16 euros. Total amount of interest on the loan: 176.70 euros. Minimum arrangement and assessment fee.

Example for a loan amount requested of 5,000 euros:

Minimum APR of 11.55% to be repaid in 96 months, at an annual nominal interest rate of 8.75 % and a monthly payment of 72.61 euros, and the contracting of the Total Loan Protection Insurance with a single payment premium of 220.13 euros. The final instalment is a lower amount: 72.04 euros. Total debt amount: 7,345.12 euros. Total cost of the loan: 2,345.12 euros. Total amount of interest on the loan: 1,969.99 euros. Arrangement fee of 2.50% calculated on the principal amount of 5,000 euros and minimum assessment fee.

Maximum APR of 18.51% to be repaid in 18 months, at an annual nominal interest rate of 8.75 % and a monthly payment of 297.42 euros, and the contracting of the Total Loan Protection Insurance with a single payment premium of 152.30 euros. The final instalment is a lower amount: 297.26 euros. Total debt amount: 5,660.70 euros. Total cost of the loan: 660.70 euros. Total amount of interest on the loan: 353.40 euros. Arrangement fee of 2.50% calculated on the principal amount of 5,000 euros and minimum assessment fee.

Example for a loan amount requested of 12,000 euros:

Minimum APR of 11.43% to be repaid in 96 months, at an annual nominal interest rate of 8.75 % and a monthly payment of 174.26 euros, and the contracting of the Total Loan Protection Insurance with a single payment premium of 528.31 euros. The final instalment is a lower amount: 173.28 euros. Total debt amount: 17,586.29 euros. Total cost of the loan: 5,586.29 euros. Total amount of interest on the loan: 4,727.98 euros. Arrangement fee of 2.50 % and an assessment fee of 0.25 % calculated on the principal amount of 12,000 euros.

Maximum APR of 17.93% to be repaid in 18 months, at an annual nominal interest rate of 8.75 % and a monthly payment of 713.80 euros, and the contracting of the Total Loan Protection Insurance with a single payment premium of 365.52 euros. The final instalment is a lower amount: 713.70 euros. Total debt amount: 13,543.82 euros. Total cost of the loan: 1,543.82 euros. Total amount of interest on the loan: 848.30 euros. Arrangement fee of 2.50 % and an assessment fee of 0.25 % calculated on the principal amount of 12,000 euros.

3. If the period from early cancellation to the theoretical maturity of the contract is less than 12 months, the fee is 0.50 %; if it is longer, it is 1.00 %.

4. If the loan is for the purpose of carrying out cosmetic renovations, which are not intended to prevent the property becoming completely derelict, the APR may change, depending on the repayment period of the loan as a percentage fee applies, the APR may vary according to the term and amount of the loan. The calculation of the APR includes an arrangement fee of 1.25 % (minimum 50 euros) and an assessment fee of 0.25 % (minimum 30 euros) calculated on the repayment period and the amount of the loan requested and the contracting of the Total Loan Protection Insurance for a person aged 34. The APR may vary depending on the amount and term of the loan. Fee calculated without taking into account the three-month optional waiting period. Check with your branch about the possibility of financing the insurance premium.

Example for a loan amount requested of 2,500 euros:

Minimum APR APR of 11.70% to be repaid in 96 months, at an annual nominal interest rate of 8.75 % and a monthly payment of 36.31 euros, and the contracting of the Total Loan Protection Insurance with a single payment premium of 118.03 euros. The final instalment is a lower amount: 35.54 euros. Total cost of the loan: 1,183.02 euros. Total amount of interest on the loan: 984.99 euros. Total debt amount: 3,683.02 euros. Minimum arrangement and assessment fee.

Maximum APR of 20.11% to be repaid in 18 months, at an annual nominal interest rate of 8.75 % and a monthly payment of 148.71 euros, and the contracting of the Total Loan Protection Insurance with a single payment premium of 97.46 euros. The final instalment is a lower amount: 148.63, as the interest on this loan includes the sum of differences due to rounding off of previous instalments resulting in an interest adjustment of: 0.08 euros. Total cost of the loan: 354.16 euros. Total amount of interest on the loan: 176.70 euros. Total debt amount: 2,854.16 euros. Minimum arrangement and assessment fee.

Example for a loan amount requested of 5,000 euros:

Minimum APR of 11.12% to be repaid in 96 months, at an annual nominal interest rate of 8.75 % and a monthly payment of 72.61 euros, and the contracting of the Total Loan Protection Insurance with a single payment premium of 220.13 euros. The final instalment is a lower amount: 72.04 euros. Total cost of the loan: 2,282.62 euros. Total amount of interest on the loan: 1,969.99 euros. Total debt amount: 7,282.62 euros. Arrangement fee of 1.25% calculated on the principal amount of 5,000 euros and minimum assessment fee.

Maximum APR of 16.46% to be repaid in 18 months, at an annual nominal interest rate of 8.75 % and a monthly payment of 297.42 euros, and the contracting of the Total Loan Protection Insurance with a single payment premium of 152.30 euros. The final instalment is a lower amount: 297.26 euros. Total cost of the loan: 598.20 euros. Total amount of interest on the loan: 353.40 euros. Total debt amount: 5,598.20 euros. Arrangement fee of 1.25% calculated on the principal amount of 5,000 euros and minimum assessment fee.

Example for a loan amount requested of 12,000 euros:

Minimum APR of 11.00% to be repaid in 96 months, at an annual nominal interest rate of 8.75 % and a monthly payment of 174.26 euros, and the contracting of the Total Loan Protection Insurance with a single payment premium of 528.31 euros. The final instalment is a lower amount: 173.28 euros. Total cost of the loan: 5,436.29 euros. Total amount of interest on the loan: 4,727.98 euros. Total debt amount: 17,436.29 euros. Arrangement fee of 1.25 % and an assessment fee of 0.25 % calculated on the principal amount of 12,000 euros.

Maximum APR of 15.91% to be repaid in 18 months, at an annual nominal interest rate of 8.75 % and a monthly payment of 713.80 euros, and the contracting of the Total Loan Protection Insurance with a single payment premium of 365.52 euros. The final instalment is a lower amount: 713.70 euros. Total cost of the loan: 1,393.82 euros. Total amount of interest on the loan: 848.30 euros. Total debt amount: 13,393.82 euros. Arrangement fee of 1.25 % and an assessment fee of 0.25 % calculated on the principal amount of 12,000 euros.

If the period from early cancellation to the theoretical maturity of the contract is less than 12 months, the fee is 0.50 %; if it is longer, it is 1.00 %.

Repayment system and calculation formula for the repayment of the principal debt and the interest:

The French repayment system, which features a system of consistent instalments, is used for the calculation of the instalments to be paid. I.e., the same amount is paid every month, provided that the interest rate applicable to the transaction does not vary during the settlement period, or that no early repayments have been made.

Additional information about the insurance linked to your loan: Total Loan Protection includes Total Life Protection and Total Payment Protection insurance. Total Life Protection is a life assurance policy from BanSabadell Vida, S.A. de Seguros y Reaseguros, and Total Payment Protection is an insurance policy from BanSabadell Seguros Generales, S.A. de Seguros y Reaseguros, both of which are brokered by BanSabadell Mediación, Operador de Banca-Seguros Vinculado del Grupo Banco Sabadell S.A., with Tax ID No. A03424223 and its registered address at Av. Óscar Esplá, 37,03007, Alicante, registered in the Mercantile Register of Alicante and in the DGSFP Insurance Company Register, under code OV-0004, having taken out civil liability insurance and providing financial capacity in accordance with the Private Insurance and Reinsurance Brokerage Act. You can view the insurance companies with which BanSabadell Mediación has signed an insurance agency contract at www.bancosabadell.com/bsmediacion website.

BanSabadell Vida, S.A. de Seguros y Reaseguros, with Tax ID no. A08371908 and its registered office at Calle Isabel Colbrand, 22, 28050 Madrid, registered with the Mercantile Register of Madrid and the DGSFP Insurance Company Registry under code no. C-0557. BanSabadell Seguros Generales, S.A. de Seguros y Reaseguros, with Tax ID no. A64194590 and its registered office at Calle Isabel Colbrand, 22, 28050 Madrid, registered with the Mercantile Register of Madrid and the DGSFP Insurance Company Registry under code no. C-0767.

May be of interest to you: Information prior to contract


Expansión Loan

Call
+34 935 202 910
+34 935 202 304

(from abroad)


24 hours, every day
Visit one of our branches